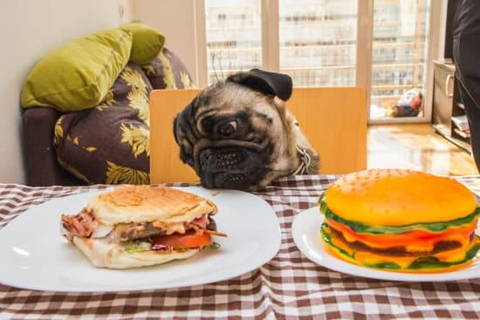 Are you a dog lover? Or maybe a first-time fur parent?
Parenting, in either case, is never easy. There are many things that you must learn to do and many things that you should refrain from doing to ensure the health and safety of your fur baby. Your dog's diet is one of the things that you need to pay close attention to. Their diets are not always like human diets. The food we eat is not necessarily safe for them.
This is particularly true for dogs with extra sensitive stomachs or food allergies. As a responsible fur parent, extra care and attention must be given to see if any particular food types trigger a potential negative reaction. In certain cases, a visit to the vet becomes necessary.
You may be wondering at this point what types of food are safe to give your pet dog. You may be tempted to share scraps from your table or add in extra treats to your regular doggie bowl during mealtimes. Not to worry though, Paws Place has you covered.
What follows is a list of common treats and other food items that fur parents like to spoil their dogs with from time to time.
Treats and Snacks for Your Dogs
In addition to or perhaps instead of the regular packed dog treats that are commercially available, you may want to share common food items that we as humans consume. Before feeding your dog some of these items, check the list below to learn what is safe and what is harmful for your furry family member.
Keep in mind that this is a general list of what is considered good and harmful for dogs. Just as people have different dietary requirements, your dog can also have specific and distinctive reactions which are different from what is generally recommended for them.
Simple Guide Before Feeding Dogs
Can Dogs Eat Popcorn?
Giving your dog popcorn is not bad for them, but it also depends on what flavor popcorn you give your dog. Air or plain popped corn is not harmful to dogs in general, but be sure to give them these in small quantities only.
Popped corn with toppings and too much flavoring, such as buttered popped corn, is not safe if given daily. Just like any treat you give your dog, always remember to check the amount or quantity.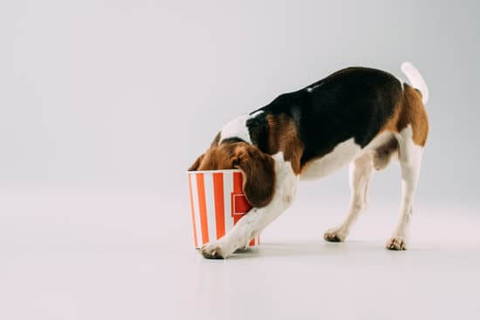 Can Dogs Eat Bread?
Bread is safe for dogs. I bet you can't even count how many times you saw dogs eating bread or sandwiches. As long as your dog doesn't have allergies, you can feed him with plain white or wheat bread.
Many of us have been giving bread to our dogs as a treat, which is not a bad thing, provided that they have a well-balanced diet and get regular exercise. As we all know, bread is packed with carbs. If you're not careful, feeding your dog too much bread can result in obesity.
Be aware that there are ingredients found in bread that are very toxic for dogs. Below is a list of them:

Can Dogs Eat Yogurt?
Surprisingly, the answer is yes! It's tasty, plus it is rich in calcium and protein. The next question would be, what kind of yogurt can dogs eat?
Plain and non-fat plain yogurts are safe for dogs. You must also remember to always check the ingredients and contents before buying any for your dogs. Some yogurts contain xylitol, a sweetener commonly added to human food; even a small amount of xylitol can be toxic for dogs.
Now, you might be asking, how much yogurt can my dog eat? The right portion of yogurt differs depending on the kind of yogurt you give him and your dog's size and lifestyle. Ideally, the calories from yogurt should comprise no more than 10 percent of your dog's daily calorie intake.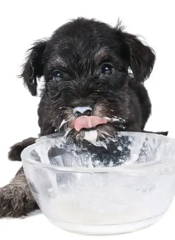 Can Dogs Eat Honey?
Since we started talking about creamy and tasty treats that your dog can eat, have you ever wondered: can dogs eat honey?
Honey is naturally sweet. It contains small amounts of vitamins and minerals. Many of our food and beverages use honey as a sweetener. Generally, honey is safe for dogs, but in small quantities. One teaspoonful everyday should be enough. Since it is sweet, too much of it can lead to obesity and tooth decay.
Be careful though when giving raw honey to your dog particularly if your dog is very young, has diabetes, is overweight, or has a compromised immune system. Raw honey may contain botulism spores, a type of bacteria which dogs with weaker immune systems may not be able to counter. Botulism in extreme cases can lead to paralysis in dogs.
Honey is said to cure allergies, reduce inflammation, and soothe sore throat and stomach ulcers. However, these claims are not backed up by a conclusive scientific study or research. It's still much better to be cautious than sorry later on.
Can Dogs Eat Coconut?
Another food that you're maybe curious about is coconut. While it is recommended to add coconut oil to our dog's diet, the question is, can dogs eat coconut?
Yes! Coconut meat is definitely safe for dogs. Since coconut oil and coconut meat come from the same place, they share the same properties though coconut meat just might be a bit healthier than coconut oil. However, keep in mind that coconut contains medium triglycerides which may provoke gastrointestinal upsets and bloating. Despite the risks, your dogs can still get a lot of benefits from coconuts so if they want some, don't hesitate to give it to them.
Here are some of the benefits of feeding coconut to your dogs:
Makes coat softer and healthier-looking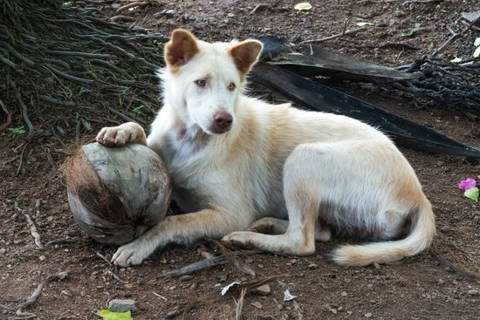 Can Dogs Eat Pineapple?
Yes! Pineapple is a healthy substitute for packed treats that may have a large number of fats or additives. It contains many nutrients and helps keep your dog hydrated which are both very good for your dog's overall health. Additionally, pineapple has an enzyme called bromelain which makes it easier for dogs to absorb protein.
Though pineapple may not be very appealing to dogs, there are many ways to make them eat it. Pineapple is a very versatile fruit. You can mix it up with other food to make it a treat that your canine family member will surely love.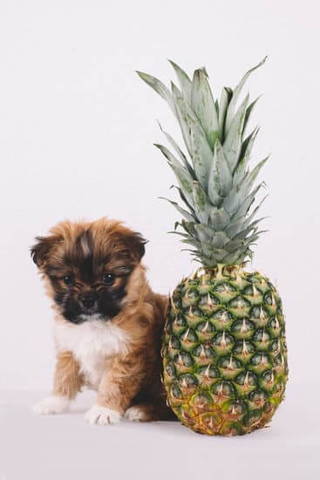 Here are a few simple tips on how you can feed your reluctant canine this nutritious fruit:
Mixing pineapple in yogurt - You can make a healthy fruit salad by mixing pineapple and other dog-safe fruits like watermelon, blueberries, and bananas into yogurt. Just keep the 10 percent rule in mind (i.e., treats should never be more than 10 percent of their daily calorie intake) to help limit their calorie and sugar consumption.
Frozen pineapple - This refreshing treat is best for hot summer days to keep your dogs hydrated.
Puréed Pineapple - Freeze some pineapples in ice cube trays and your dog can now enjoy another hydrating treat.
Ice Cream for Dogs - Freeze some dog-safe fresh fruits together with puréed yogurt and some cooked, puréed sweet potatoes. Just scoop it out once frozen and give it to your dog as a healthy ice cream snack.
Smoothies - With smoothies, you can add even more fresh fruits with yogurt mixed in. You can also add some veggies and pineapple juice to make a smoothie that your dog will love.
Can Dogs Eat Cherry?
Cherries are rich in Vitamins A and C, fiber and antioxidants which are good for dogs. They can eat the flesh off a cherry, but not its flesh which can result in an upset stomach. What's worse is some cherries have cyanide and that includes the cherry leaves, pit, and stem. If ingested in large amounts, they are toxic for dogs. Moreover, cherry pits can cause intestinal obstruction.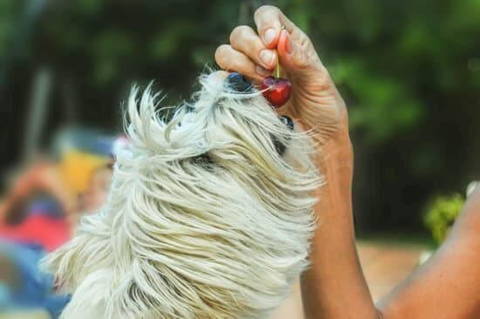 There are many types of cherries such as black cherries, bing cherries, rainier, and maraschino.

Even if maraschino cherries don't have pits, they are high in sugar. It is also not advisable to give your dogs canned cherries and canned fruits since they are often high in sugar and preservatives. Too much sugar is not suitable for dogs and may result in cavities, diabetes, digestive upsets, and obesity.
Can Dogs Eat Mango?
Do you love mangoes and are wondering if dogs can eat mangoes? Well, the answer is yes! They are sweet and tasty. Moreover, they have soft flesh that makes them easy for dogs to eat.
Mangoes are a nutritious treat for dogs because they are rich in essential vitamins such as A, B6, C, and E. However, there are parts of a mango that are not safe for dogs.
The skin may be edible, but dogs might find it difficult to digest. Mango pits have cyanide and are dangerous for dogs, especially when swallowed, and can cause intestinal blockage.
Furthermore, mango is rich in fiber, which dogs are not used to. This is why eating too many mangoes can result in upset stomach and diarrhea.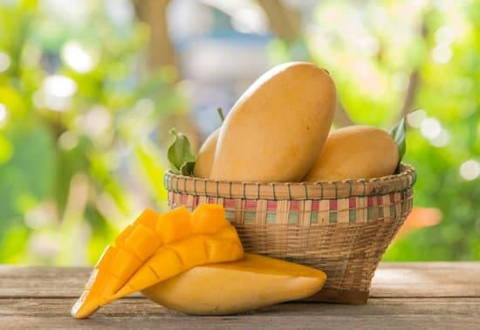 Can Dogs Eat Avocado?
Another fruit that you may be curious about is the avocado.
The simple answer is NO!
A fungicidal toxin called persin can be found in avocados. It is present in most avocado parts like its fruit, leaves, pits, and even the actual plant itself.
Persin can cause severe health problems - and rarely even death - in many animals. Although veterinarians say that dogs are more immune to persin than other animals, it is still not worth taking the risk.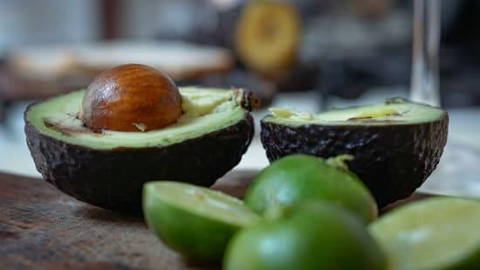 Can Dogs Eat Watermelon?
Since it was mentioned earlier, you may already have the answer to the question: can dogs eat watermelon? But is it safe for them?
Watermelon is rich in Vitamins A, B6, and C and potassium while being low in calories, but there are still a couple of precautions before feeding your dog: Always remember to remove the seeds first because it can result in intestinal blockage. Letting them chew on the rind is not advisable because it can cause gastrointestinal upset.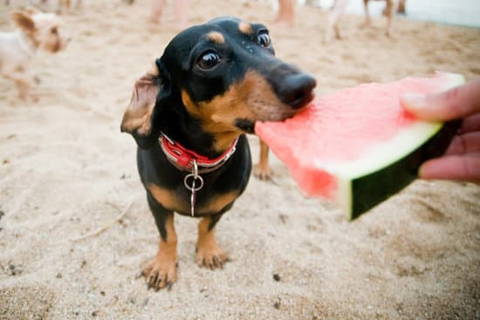 Can Dogs Eat Peaches?
Wait, there's more! Can dogs eat peaches? Yes, they can undoubtedly have peaches. This popular summer fruit is rich in Vitamins A and C, antioxidants, and more.
Peaches are also high in fiber and sugar compared to other fruits.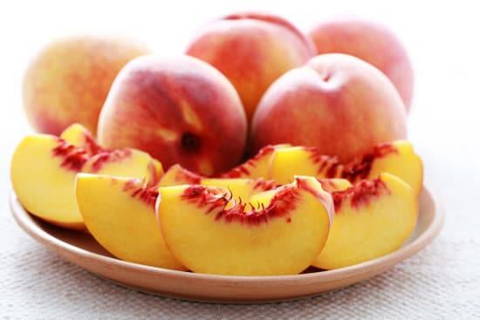 Like any other fruits rich in fiber and sugar, peaches should not be fed to your dogs often as they can cause upset stomach, diarrhea, diabetes, cavities, and obesity.
How do you safely prepare peaches for your dogs? It's simple and easy. Just wash off any chemicals and pesticides from the skin.
You can prepare it for them in chunks or slices, depending on what your dog likes. You can also serve them peaches as a frozen treat on hot summer days.
Can Dogs Eat Pears?
Pears are rich in copper, Vitamins C and K, and fiber which makes them a perfect treat for your dogs.

Surprisingly, experts advise that eating pears can reduce the possibility of a stroke by 50 percent. When giving this to your dogs, make sure to slice it into bite-size pieces, take out the pits, and separate the seeds. Pear seeds contain a bit of cyanide.
Can Dogs Eat Blueberries?
If you are wondering, can dogs eat blueberries? Well, yes! If you are looking for a low-calorie snack for your dog, blueberries would be great. Apart from that, it is also rich in Vitamins C and K, fiber, and antioxidants. These nutrients can boost the immune system and support the overall health of your dogs.
Although blueberries come in small sizes, they can be dangerous for your dogs. It can be a choking hazard. Also, giving them too much can cause a digestive upset.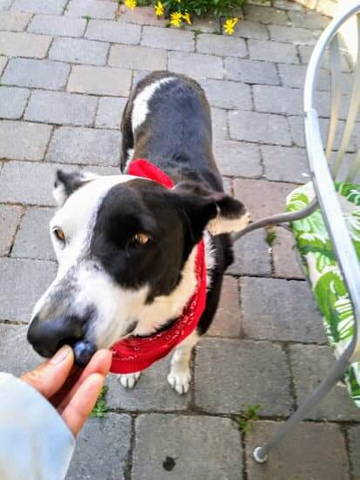 Can Dogs Eat Raspberries?
Since we've started talking about "berries," we better continue. If dogs can eat blueberries, you might be also curious to know, can dogs eat raspberries?
Just like its sibling, raspberries and cranberries are also a good treat for your dog. However, dogs might not want to eat cranberries because of their bitter taste.
In general, not all berries are harmless or good for your dogs. Remember to always be careful and consult your veterinarians first before feeding your dogs anything.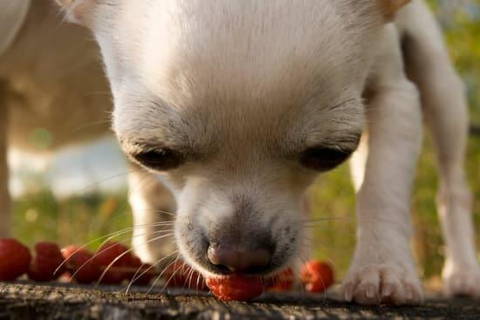 Can Dogs Eat Broccoli?
Broccoli has two parts: the green and thick stalk and the flowery-like florets.
Broccoli is safe for your dogs to eat whether cooked or raw, but give it to them in small pieces.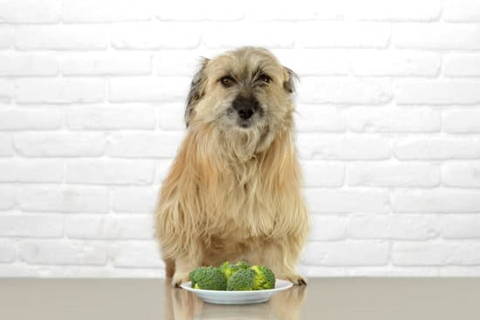 Do note that all cruciferous vegetables like broccoli, cabbage, cauliflower, or kale have small molecules known as isothiocyanates which can irritate your dog's gastrointestinal system. This is why it is very important to serve broccoli to your dogs in the right portions. Letting your dog eat a substantial amount of broccoli may result in severe health problems, and, even worse - death.

On the other hand, giving your dog cooked broccoli is highly advisable. If you slice the cooked broccoli into small bite-size pieces, the chances of choking or intestinal blockage are less. Remember not to add other ingredients and seasonings which might upset their tummies when you prepare cooked broccoli for your dogs.
Can Dogs Eat Celery?
Speaking of green veggies, one that you might have been wondering about is celery. Can dogs eat celery? Here's your answer:
According to multiple sources like veterinary websites Vetstreet and Clinician's Brief, celery is one of the vegetables listed as "safe for dogs." Celery is commonly regarded as a weight-loss treat.
Celery is packed with nutrients such as Vitamins A, C, and K, fiber, folate, manganese and potassium. It is also low in fat and cholesterol. Feeding your dogs this crunchy veggie can also help freshen their breath.
Can Dogs Eat Asparagus?
We're not stopping yet! Asparagus is rich in vitamins and minerals and is a delicious vegetable. It is safe for your dogs to eat and is not toxic for them. There are, however, a few things you need to consider before serving it to your dogs.
We don't normally eat asparagus raw because their stalks are a bit hard which makes it difficult for us and our dogs to chew. You can chop raw asparagus before giving it to your dogs to reduce the risk of choking, but it is not recommended. The best way is to cook it slightly, just enough to make the stalks chewable.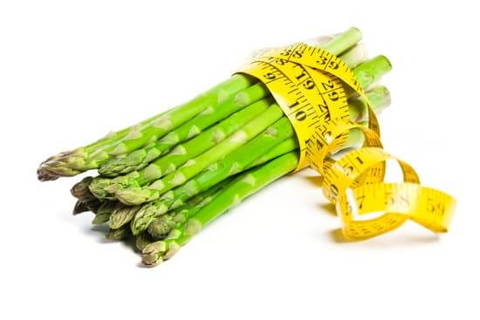 Can Dogs Eat Spinach?
Next on our list: can dogs eat spinach? Spinach might not be the best vegetable to feed your dogs even if dogs can eat them because it contains a significant amount of oxalic acid.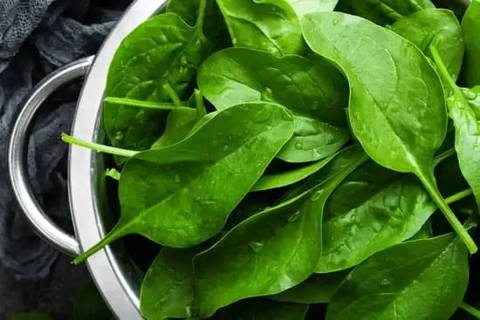 Oxalic acid can cause kidney damage in dogs since it prevents their bodies from absorbing calcium. Your dogs will have to eat a vast quantity of spinach for this to become a health issue, but in the end, it's a risk that can be easily avoided by feeding your dog other, safer vegetables.
Can Dogs Eat Beans?
As we go from one vegetable to another, you might be interested to know: can dogs eat beans? Absolutely! You can add beans to your dog's healthy diet. Beans contain some proteins and are high in fiber. It's a good treat for your dogs, but make sure to give it to them in moderation since beans are rich in calories.
Now, how will you prepare beans for your dogs? Since raw beans can be challenging to digest, cooking them will be a lot easier if you soak them first in water first. This way, it will be much easier for your dogs to digest and can help reduce flatulence.
Your dog can enjoy many varieties of beans, like edamame, black beans, garbanzo beans, kidney beans, lima beans, navy beans, pinto beans, and soybeans.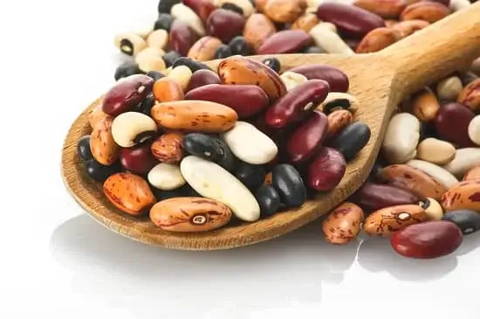 Can Dogs Eat Green Beans?
Green beans are full of vitamins and minerals like calcium, iron, protein and vitamins A, B6, C, and K. Additionally, they are low in calories and high in fiber making them an excellent treat.
It is interesting to note that green beans are among the most recommended vegetables by veterinarians as a healthy treat for dogs. They are not just safe for dogs, but more importantly, dogs seem to love them. Whether they are canned, chopped, steamed, or raw, they are safe for your dogs, provided that they are served plain and unseasoned with unhealthy ingredients.
Below is a list of ingredients that you should avoid when preparing green beans: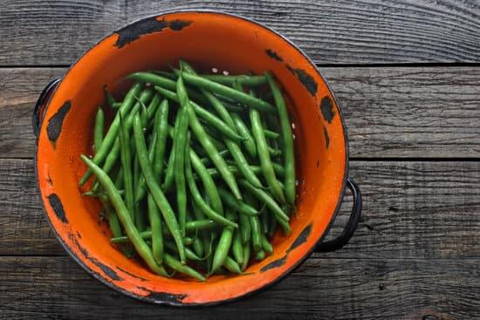 Can Dogs Eat Cantaloupe?
If you're looking for a fruit that is an excellent source of dietary fiber and is bursting with vitamins and minerals such as, Vitamins A, B6, and C, folate, niacin, and potassium, cantaloupe would be a great choice. Moreover, cantaloupes are high in water content and low in calories. This provides your dogs with important hydration without needing to worry about having them take on extra pounds.
If your dog is overweight, a tasty melon can be a great substitute for his/her usual treat, but in moderation. Although the seeds are harmless, it is much better to take them out to keep your dog from choking on them. Make sure to separate the rinds from the flesh as well because they too can be a choking hazard and can cause gastrointestinal upset.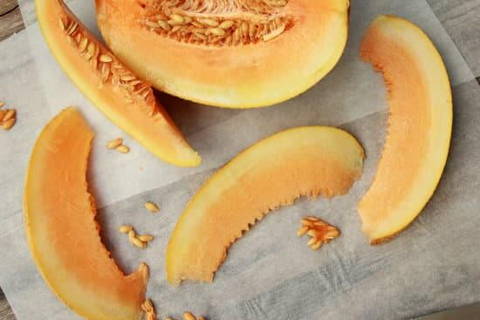 Can Dogs Eat Cucumber?
If you love cucumber, then your furry friend may like it too. It is perfectly safe for dogs while having that crunchy goodness that most dogs find appealing. Its high water content and low calories make it an excellent diet choice for your four-legged companions and helps with their hydration.
As with all other food, remember not to overfeed your dogs with cucumbers and never give them a whole cucumber to prevent gastrointestinal upsets and choking.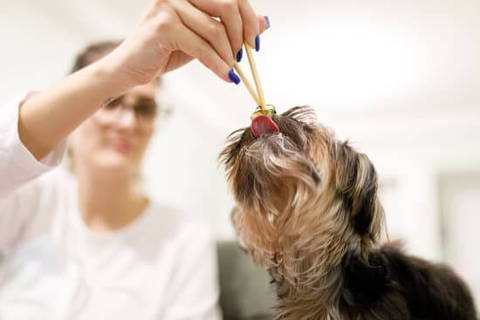 Can Dogs Eat Pickles?
Cucumbers are perfectly safe for our furry pals, but what about pickles? Can dogs eat pickles? Well, the answer is yes and no.
Veterinarians don't commonly recommend feeding pickles to your dogs although they are not essentially dangerous for them. Pickles can be a healthy treat for dogs since they are low in calories and have vitamins and minerals. However, they contain a great amount of sodium and other ingredients that can be harmful to dogs.
According to Staff Veterinarian at Animal Medical Center in New York, Dr. Carly Fox, "Although pickles contain vitamins and minerals that are beneficial to us, the negative aspects far outweigh the benefits for dogs. Overall, they aren't a great choice to feed your dog."

Can Dogs Eat Bell Peppers?
How about bell peppers? Have you ever thought: can dogs eat bell peppers? "They are not toxic and they are a healthy alternative snack to share with your dog," says Dr. Carly Fox, Staff Veterinarian at Animal Medical Center in New York. So, the answer is yes. You and your furry friend can both enjoy all the nutritional goodness of the bell pepper.
Bell peppers are an excellent source of lutein, vitamins A, B6, E, C, and beta carotene, which is an antioxidant. These antioxidants help boost your dog's immune system.
Bell peppers come in different colors - red, green, orange and yellow. Colors don't matter as they contain all the important nutrients that are helpful for your dog's health, but the most nutritious of them all are the red bell peppers.
According to Bella Frakes, a dog trainer and breeder, "Red bell peppers are the best to feed to your dog because they contain the highest amount of vitamins and antioxidants."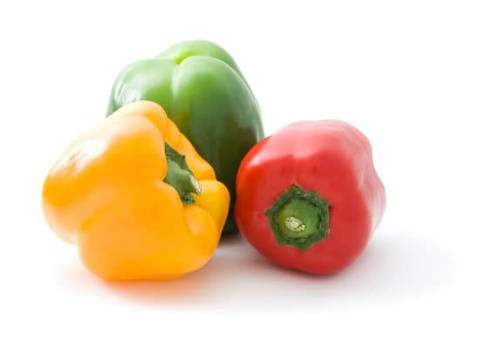 Before trying to feed your dogs with the foods listed above, you must consider how strong their digestive systems are.

Most dogs have a sensitive stomach, but all dogs are susceptible to vomiting and diarrhea if they eat foods they aren't supposed to eat.
If this happens, you can try giving a bland diet for dogs, but what is a bland diet?
Bland Diet For Dogs
A bland diet consists of soft and highly digestible foods. These foods will naturally calm your dog's digestive system and will help restore a solid stool. Bland diet for dogs is commonly made of boiled rice and boiled lean chicken meat (usually the breast part without the skin and bones).
Before transitioning your dogs to a bland diet, your dogs must have fasted for 12 hours. You can give small amounts of water or ice chips during their fast. Feed them the bland diet gradually until vomiting and diarrhea stop.
How To Prepare A Bland Diet -
Preparing a bland diet is simple and easy. Just boil 1 part rice to 3 parts water for 20 to 25 minutes or until the rice is crushed. Cook the lean meat (usually chicken breast) by boiling it for 15 to 20 minutes. Chop the boiled lean meat into smaller pieces and mix with rice.
Why Do Dogs Eat Cat Poop?
After discussing some of the tasty foods your dog can eat, you might be wondering: why do dogs eat cat poop?
Disgusting as it may be, dogs eat cat poop. Yes, they do! But why? The answer is very simple. It's because it's part of their natural behavior. Dogs are scavengers by nature. They eat a lot of stuff and that includes plastic, garbage, rocks, and many more. They also eat many kinds of poop, cat poop is just one of them. Why again? That's because dogs love to eat foods with a strong smell.
For dogs, cat poop smells like cat food which is appealing to them, although it may smell differently to us humans. Eating poop or coprophagia can also be caused by a dietary deficiency or malnutrition, but is often a result of dogs exploring their surroundings.
Is eating cat poop bad for dogs? It can be. Your dog may get harmful bacteria and parasites like salmonella that can be transferred to humans.
Simple Guide Before Feeding Dogs
Feeding our dogs shows how much we love them. Dogs are good judges of character. They are intelligent animals and they can feel our sincerity towards them. Show your love to them and take care of them by following this simple guide in giving and preparing treats for them.
Always follow the ten percent rule.
The ten percent rule is very easy to understand and follow. It means that the treats (any treat) you feed your dog shouldn't take up more than ten percent of their daily calorie intake. Even if all the food you give them are good for dogs, give it to them in moderation. Too much of anything is bad.
Cut the food or treats into smaller pieces to prevent choking. Remember to always cut or slice the food or treats according to your dog's size and age, prior to feeding them.
Always consult your veterinarians.
Before feeding your dogs with new treats, it is best to always consult a veterinarian to ensure that the treat you are about to give them is the right serving, size, and food type.
Armed with this knowledge, you are now a wiser and more responsible fur parent. Let's start preparing healthier treats for our four-legged pals!
Help us spread the word of adoption and pet care worldwide. Every Sale from our store donates to pet rescue associations and supports our volunteering actively. Share our vision or get a product you love to support. Help us grow and make our vision a reality - home and love for all paws.