"I LOVE this harness! And so does my dog. No more pulling, NO MORE CHOKING!!! It's also by far the easiest harness to put on." - L.A USA
"Wonderful and durable harness. I have a large pug who is VERY strong. And pugs have hardly any neck, so it's easy for them to slip through their harness. This one is easily adjustable and very secure." Jane USA
Goes on/off in two seconds flat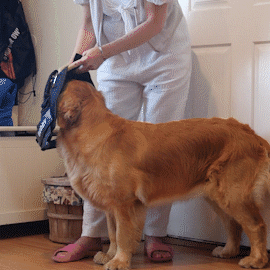 Stops Choking, Coughing & Gagging!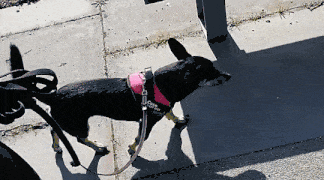 "Why didn't I buy this particular one sooner? These harnesses fit REALLY well, and that has been an enormous challenge for us." - Lisa, USA
Which size should I order?

Please use the size guide to measure your dog for the best harness match:

How long will it take to receive my order? Where do you ship from?
United State, United Kingdom, Spain and Italy -
Usually between 4-12 business days shipping with priority shipping providers such as: DHL, USPS.

Delivered from US/EU warehouses depending on the clients' location.
Worldwide
Usually between 15-25 business days, depending on your location and the carrier service. Delivered from several warehouses located in the US, EU and China.
POSSIBLE SHIPPING DELAYS due to Coronavirus (COVID-19)
We will do our best to ship your products asap and will update you about the delivery status. Please be patient to receive your delivery longer than the regular handling and shipping time frame.

THANK YOU FOR YOUR UNDERSTANDING
We appreciate your continued support, and we are here to help in any way we can. We wish you the best as we weather this storm together.
Sure!
We send email messages containing all your order & shipping details.
Your email order confirmation will contain all your order details.
If you don't receive a confirmation within 24 hrs of placing your order - or if you notice an error - be sure to contact us.

SHIPPING CONFIRMATION: (when your order ships)
Your shipping confirmation will contain tracking information so you can follow the delivery progress of your package.

Please note the tracking information, estimated shipping times and delivery dates are determined by the carriers. Occasionally, tracking information is not available. This is due to the shipping carrier's system, not Paws-place's order system.
For more information, please visit our shipping page.
What if I'm not satisfied with the EasyWear™?
You are covered by our 100% Risk-Free Satisfaction Guarantee!
We are working with the highest standards to ensure the best quality products and
customer service.
If you are in any way dissatisfied with a product you ordered, we'll exchange it, replace it or refund your money within 30 days.
Simply email us the problem, and we'll take care of you.
We want you to be completely satisfied with every purchase you make.
All purchases made on paws-place.com are backed with a 30-day Money Back Guarantee.
"This is hands down the best harness I have ever owned, for any dog, in the history of me having dogs. I think the dogs even like them. They are SO easy to put on. Just takes all the chore out of putting it on the little rug rats altogether." - Julia S
Give your dog nothing but the best





"Probably my most favorite feature of this harness (besides the fit) is the handle on the back. I can't tell you how many times this has come in handy in ways that I hadn't ever considered. I just love everything about it." - Amy.K
Protect your dog's health
THE NECK OF A DOG IS AN EXTREMELY SENSITIVE AREA of the body that can easily be damaged.

The EasyWear™ harness prevents strains and tension in the neck area, which may cause various problems, including permanent damage to the spine.

"When my vet found out about our baby starting to develop spine problem, he told us to get rid of the collar on the spot.
After trying out too many disappointing Harnesses, we find this one. Finally, a harness that she loves to walk with!! So easy to wear and her spine problems dramatically decreased!!! I keep telling everyone about it, best before even having any health problems at all!" - Jane D. Texas
Provide the best comfort for your dog at any age
"I have a beautiful, loving little guy who is getting older and his old harness was not comfortable for him any more.
I changed to the Easywear harness and he loved it right from the beginning. He's more confident and happy when walking him and it's so easy to put on and take off. We love it." - A.T AU

"Maximus' eyesight is failing him. We bought this harness to have it designed to add a halo so it would help him from bumping into the walls outside or keep him from getting hurt running into items. Your harness was exactly the right item to add the harness holders. Thank you for helping us protect our grand dog."

Be a part of over 24K of our happy customers
Awesome harness! Highly recommend!
"It's a heavy, solid material without being too heavy and uncomfortable for him. It fits his body well, even though he's a lanky and skinny pup right now.

He doesn't even notice it's on him, but he knows when I got to put it on, that he gets to go outside. He sits and waits for it! I bought a traditional step in type harness and he hated it! I hated it! I could NOT get his front two feet in and if he had grown a little, I'd have to take it back off to adjust it. This one can adjust while it's on him. It looks nice on him too! I feel like this will last awhile too.
If it doesn't end up fitting him when he's full grown, I plan on buying a second one! I highly recommend it! Because he's a puppy, he pulls a lot, this has kept him from jumping and tugging while pulling me, he walks at a decent pace and stays down. It's like a calm pressure around him that he doesn't get over excited or anything. It's been nice to walk him.
The reflective stripes are awesome for night walking. They're right in front and in the sides so you see him first when we're walking.
I would definitely suggest getting this harness. You will not be disappointed!
The English bulldog is the hardest breed to find a harness that will not wiggle off! We tried on every harness at PetSmart. And I swear all of a sudden my dog slipped out and ran wild. She wasn't trying to get off, they just come off because of her large chest and little waist.

it was worth entry penny! My dog walks like a champ in it! Everyone at the vets office is impressed!! We love it!
I was searching for a harness that my Yorkie would not fight with, but was comfortable. I am so happy with the Easywear Dog Harness. Everything that was promised came true. The ease of using and adjusting the harness was great. My dog shows no discomfort when wearing her harness that she showed with other products I have tried.

I love the fact I can have a Velcro patch made or purchase one to put on her harness as well. I definitely recommend this dog harness to anyone who has been searching the internet for one. Also, the durability of the harness is worthy of mentioning. No fraying of stitching or coming undone.
Frequently asked questions
Is the EasyWear™ vetriniraian approved?
Not only approved, the EasyWear™ highly recommended by veterinarians and dog trainers.
The EasyWear™ is suitable for all types of dogs, ranging from small breeds weighing 5 lbs (2 kg) to larger breeds of 150 lbs (68 kg).
Each harness is personalized specifically for you & comes with adjustable straps for your dog to fit in comfortably without being able to chew on the harness.
The EasyWear™ features an easy on/off design that your dog won't back out of.
It makes for hassle-free wears and comes complete with a sturdy metal leash attachment.
It's designed with a no-pull technology, equally distributing weight across your dog's frame when using a leash. The result? Effortless control and comfort at the same time, for both you and your dog. For extra control, hold your dog in place directly from the extra durable top handle, total flexibility with his all-in-one harness!
Why should I get my dog the EasyWear™?
A big advantage a harness has over collars is that they reduce the risk of neck injury which dogs are prone to.
They massively reduce respiratory problems & tracheal collapses.
The Easywear™ is perfect for training, discourages pulling, and allows you to stop your dog from jumping up on strangers without worrying about choking while giving you more control.
Can my dog get out of this harness?
The Easywear™ harness makes it much easier to get the perfect fit with the best comfort for your dog. As long as you use the right size, adjust it to your dog, and make sure to close the clip (we recommend a slightly snug fit but not too tight), your dog won't be able to back out or escape from it.
Why should I get this harness to my dog if he doesn't pull?
Beside discourage pulling, the EasyWear™ Harness is an excellent solution for dog owners who have a hard time getting other harnesses. It's very comfortable for dogs to wear, adjustable for a perfect comfort fit, and include reflective straps to ensure your dog is highly visible and safe at night. Collars and other tight and less adjustable harnesses risk damage to the body like the trachea.
Can I find the EasyWear™ Harness in retail stores?
The EasyWear™ isn't available in stores at the moment. We're a family business and selling them exclusively online, which allows us to reduce the end costs and ensure best and fast customer support.
Where "Paws Place" located?
We based in Buffalo, Wyoming, USA. We ship our products from several warehouses worldwide depends on the customer location.
Can I use these Harnesses for my cat?
We know about customers who do, but we recommend to be super gentle and make sure you get the right size to prevent any harm.
Is the EasyWear™ Harness adjustable?
The EasyWear™ harness is fully adjustable to ensure a comfy yet snug fit. It has an adjustable chest strap with a snap-on buckle, moves its body parts freely, can customized fits for your dogs' growth, and does not always need to change it.
Will this work as a lift? To Help a dog get into a car or up and downstairs?
The harness has a nylon handle on the back. You can use it to help your dog get on the car or stairs.
Still need an answer? Email us at info@paws-place.com, and we will contact you as soon as we can.