"It is possible!!! Easily keeping the house clean while having a shedder!! No mass, no fuss, and no more hair EVERYWHERE!!"
"This might be my favorite cleaning tool ever! I developed allergies to my cat after having him for seven years; I thought I had been able to keep my home pretty clean, but still my allergies got to me at night.
My cat loves to sleep on my bed during the day, and next to me at. In the first picture is what my bedspread looks like after maybe 2 nights.
I HAD NO IDEA HOW MUCH MORE HAIR WAS THERE!
The easy roller picks up ALL the hair and is so easy to use. 30 seconds before I go to bed saves me waking up with itchy eyes and morning congestion.."
"This is the best cat hair remover I have ever seen/used! I have two long-haired black cats and believe me - it works!!! I was so impressed with it that I bought one for my daughter who also has two cats.
BEST PRODUCT EVER! Sorry - didn't mean to yell - but, I love this thing!"
"This did exactly what it says it is going to do...oh so smartly bought velvet couches and have 3 long-haired cats...(no I wasn't thinking).
And although my Dyson does the job I needed something that was a quick clean up without totally having the vacuum come out.
Also used it on my bedding and pillows and it is just awesome:) I was hesitant on the price but after using it I bought another for my other family members with cats and allergies.."
About time something works!! Woot woot!!
"Since moving in to this house, I have purchased and researched new bed sheets, comforters and blankets trying to find some that are not going to make all this hair stick to them like white on rice. It's AWFUL! I have used lint rollers, rubber gloves, some rubber brush thingy, vacuumed the bed - pretty much if you can think of it I've tried it to get rid of the damn hair.
I saw this roller and thought why not give another thing a try??? Holy crap! This thing is the damn bomb! It works SO WELL! It took me about 5 minutes to do my comforter today and it was completely hair free!!! I used it on my couches and chairs and cannot believe the hair it got from them too!!
I dust and sweep the floor almost daily but with no place for the hair/fur to hide it would stick to my bed and drive me insane. Thank you for this awesome device!! I feel like I'm going to buy 20 and send them to my friends and family as birthday/Christmas gifts this year!"
"It's so easy to use that I actually use it! What a pleasure sitting on my hairless couch. No more lint rollers!! No more annoying, noisy, non-stop vacuuming that always leave some hair behind! My hair fights are over."
Unbelievable! Where have you been my whole life?
"I don't usually write reviews, but this is incredible! I immediately started using it on blankets, cat tree, towels that the cats lay on, bed skirt, every cloth or soft surface that the cats touch and TONS of fur started coming off!
It's simple and easy, no sticky paper that barely does anything. The design is ingenious!
It's a roller that goes back and forth about a 1/4 turn, so you have to go one direction, then back, and that simple motion not only picks up ALL the hair, but then removes it from the outer part of the roller and deposits it in the interior. When you open the back to reveal the interior, there's all the hair all bunched up!
Like freakin' magic! I cannot wait to start cleaning every surface again once I finally cleaned it once. Allergies were going nuts and after picking up all this dust and fur I'm hopeful that will go a long way to feel better.
Best product I've bought in years, I cannot believe that the reviews were so darn accurate! Get! This! Product!."
"I bought this and it's AMAZING! I vacuum my furniture and it cuts the time way down. Trust me...you need this thing!" Carrie G
CUSTOMERS' REVIEWS ANSWER YOUR QUESTIONS
My dog shed in my car. Would it help?
"I've used it in the car, on the couch, on the bed, on his cat tree, in his little bed, my dining room chairs. Best thing ever." Thomas M.
I tried so many things and none have been successful because they always leave some hair behind. Have you found it leaves any hair behind?
"It doesn't really leave anything behind. Most of the time it just takes one swipe. They recommend going back and forth and I do but only because I do it so fast. I was amazed at how fantastic the hair was just gone." Courtney M
Would this be ideal for bedding likes sheets?
"Well, I have three kitties, all of whom have medium or long hair so I understand your problem. The short answer is YES ...it works great on sheets, comforters, all types of bedding as well as all of my upholstered furniture. the handle makes it easy and comfortable to use. Prepare to be really surprised the first time you use it and go to empty the collection chamber. You'll find lots more hair than you ever thought was on the bed. I have even used it on some of my clothes rather than go through a whole roll of lint rollers."
I have a short haired dog whose hair gets embedded into a chair. A vacuum doesn't even get the hair up. Will this?
"I have both a short and long haired dog. It definitely works better for the longer hair, but will also pick up the short, denser hair--better than the regular attachment of the vacuum does. I was skeptical, but have been pleasantly surprised."
Will this remove fur off of drapes?
"Yes, it works on clothes, wool, cotton and it worked on the quilt and flannel comforter on my bed and I own a Maine Coon cat with fur almost 3 inches long. Hope this helped." K.S
"It is made in China. However, it is very sturdy, well made & really does the job. I have two dogs & it works well on furniture. I've bought numerous products & this one works the best. Sent one to my daughter who has two long-haired cats & she likes it too.
Nothing is perfect but this is the best product I have found over the years. I always try to buy things made in the USA but I read the designer's story & decided to give it a try. Glad I did" - Patricia B

We are a US business (LLC). Our products manufactured in China with high-quality materials and consistent quality assurance.
Same as the luxury iPhone and many of the 'bread and butter' products of most US-based businesses.
Would you recommend this over that other popular pet vacuum?
"This thing is amazing! It even got hair off of the carpet that our vacuum cleaner couldn't get." Emily K
Where "Paws Place" located?
We based in Buffalo, Wyoming, USA. We ship our products from several warehouses worldwide depends on the customer location.
SHIPPING TIME
United State, United Kingdom, Spain and Italy -
Usually between 5-15 business days shipping with priority shipping providers such as: DHL, USPS.
Worldwide
Usually between 7-20 business days, depending on your location and the carrier service.
POSSIBLE SHIPPING DELAYS due to Coronavirus (COVID-19)
We will do our best to ship your products asap and will update you about the delivery status. Please be patient to receive your delivery longer than the regular handling and shipping time frame.
THANK YOU FOR YOUR UNDERSTANDING
We appreciate your continued support, and we are here to help in any way we can. We wish you the best as we weather this storm together.
TRACKING
You will receive email messages containing all your order and shipping details, including a tracking number when your package ships.
You are covered by our 100% Risk-Free Satisfaction Guarantee!
We are working with the highest standards to ensure the best quality products and
customer service.
If you are in any way dissatisfied with a product you ordered, we'll exchange it, replace it or refund your money within 30 days. Simply email us the problem, and we'll take care of you.
We want you to be completely satisfied with every purchase you make.
All purchases made on paws-place.com are backed with a 30-day Money Back Guarantee.

Help us spread the word of adoption and pet care worldwide. Every Sale from our store donates to pet rescue associations and supports our volunteering actively. Share our vision or get a product you love to support. Help us grow and make our vision a reality - home and love for all paws.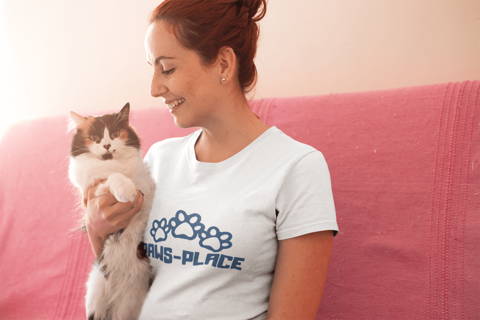 Frequently Bought Together