"I cannot believe it, but she absolutely loves this backpack. I can take her anywhere from shopping to hiking in the mountains. Best invention ever for dog lovers." Amy S
"This carrier is AMAZING! Sturdy, comfy and convenient for both myself and my new puppy, 2.5 months old. The books say the puppy's socialisation period is up to 12 weeks, so having this carrier to take him with me out of the house has been invaluable: school run, shop, bus ride, friends' houses. He loves it. He is 3kg and the large still has plenty of room left. I see this lasting for some time and will definitely buy the next size up once he outgrows the medium. Much more convenient than a side sling or any other sling type carrier for dogs that I have seen or tried. Totally worth every penny!"
"We bought this for a cross-county trip. We have three Chihuahuas weighing maybe 16 pounds. All three fit in the backpack easily. I did make only a minor adjustment to the safe feature, leash, that was attached to the back pack, by sewing two more leashes to that one. I would recommend this product if you have a small dog."
"My dog absolutely loves this bag. I travel quite a bit and have a small dog about 13 lbs, The last carrier once we got on the plane she couldn't wait to get out. With this one she snuggles in and doesn't want to come out not even when we arrive at our destination."
"My dog absolutely hates being locked up/contained - if she just sees doggy bags or pet carriers she already freaks out. I cannot believe it, but she absolutely loves this backpack. I can take her anywhere from shopping to hiking in the mountains. Best invention ever for dog lovers."
"It's very roomy for my kitten so I know it will be great when she is older too. Easy to figure out. Lots of ventilation for your furbaby to breathe. A soft comfortable pad at the bottom. My kitten loves to lay in it and use it as a jungle gym when not traveling. I love the added pop out bowl! Comes in handy!"
"We tried this out for two days straight. We walked a market and town square for hours, and I was able to let him out to stretch his legs and potty with ease! It was very easy to get him in and out. We also used the backpack for a day hike and it held up great! I believe I found the perfect backpack/fit for our needs. It worked perfectly for all of our activities and I think he really enjoyed himself. The backpack is durable, and it looks just like the blue color in the photos. The side pockets and front pouch are great for doggie gear. I love the adjustable straps and waist strap for added comfort."
"The cats love it and amazing quality!."
"I love it. She is 4.4 pounds yorkie always on the go that likes to take motorcycle rides. This carrier was perfect, it fit her and me well, the waist strap keeps the carrier secure on my back, and she was safe and happy. She likes it so much that the minute she sees me pulling it out of the closet she is ready to jump in it."
"I have a 3 month old kitten. This is so great for when I am cooking or picking up or out and about. I can keep him out of trouble and still have him out."
"Our dog loves to ride in the backpack (which can also be worn as a front pack) when he's tired during a long walk. He never tries to get out (there is a safety clip that latches onto a harness also). He loves peeking out and cruisin' along while being held close. We think it helps when he is feeling anxious as well. The backpack is great quality..."
"I'm giving it a 5 star because the overall the quality is good, our dog likes it and it has lots of pockets that come in handy for long walks."
Frequently asked questions
It's suitable for small and medium dogs and cats, within three different sizes. Please check the sizes and weight guide before ordering to see if your pet can fit and which size to choose.
Does the Pawpack™ suitable for long trips?
Definitely! The ergonomic design considers your pup's comfort and yours as well. It helps with taking the pressure off your cervical and lumbar spine.
How can I clean the Pawpack™?
You can wipe, vacuum, or even wash it.
Help us spread the word of adoption and pet care worldwide. Ten percent of proceeds from our sales goes to pet rescue associations or are pooled together in a fund for building our own pet shelter. Share our vision by getting a product you love. Help us grow and make our vision a reality - home and love for all paws.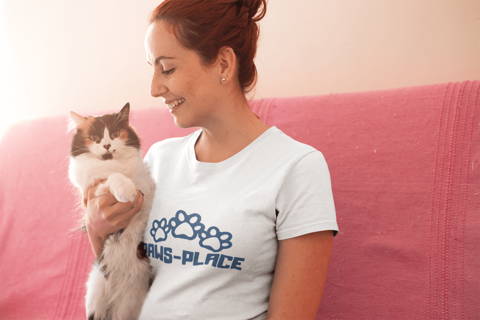 Frequently Bought Together